Working at Good Earth Farm
Being a small farm, we work closely with our crew.  Each and every job is important and makes a serious impact on a scale such as ours.  Everyone shares in the planting, weeding, harvesting, and packing of the produce.  A few of the folks we hire will also have advanced responsibilities and specialize in specific areas of the farm, such as packing shed coordination, tractor operation, tool care or caring for seedlings in the greenhouse (to name a few).
We farm intensively on 10-12 acres of land most of which are in annual vegetable production.  A few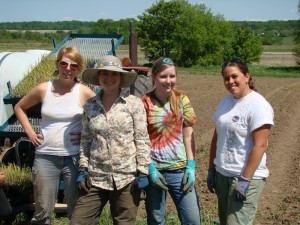 acres are also planted in fruit trees and perennial small fruits.  We have a greenhouse and additional season- extending hoop houses. Due to the size and type of farming we do, most jobs, such as planting, weeding, harvesting, washing, and packing, are done by hand.  We do, however, also have tractors and cultivators to do some of our field work.
Workdays are generally 7.5 to 8 hours per day, Monday through Friday. Saturdays are an option for those working the Farmers' Market or our Farm Stand. A few employees are scheduled to start earlier and end later on certain days of the week due to heavier workloads on those days.
---
Why work for us?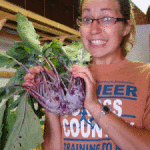 We think the farm is a wonderful place to be and work. We're serious about the work we do and we work hard, but we have fun while we work. We laugh. We tell stories. We stop to look at cool insects and awesome birds.  But we mainly work while we work.  We find joy in this work that feeds people and gets done by our hands. We also value a job well done. If you share this work ethic, you'll be respected and appreciated here.
---
Our Standards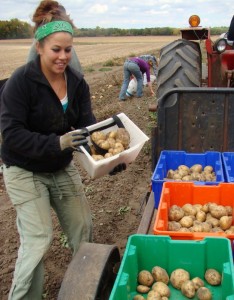 During our time farming we've worked with many employees.  Most have been effective, fulfilled workers, and several have even returned year after year to work with us. But we've had a few employees who were not cut out for doing the kind of work we do.
Below we've listed qualities which distinguish successful from unsuccessful workers.  These are the standards by which we judge potential employees.  We're disclosing them not to be insensitive, but to be clear about what we expect.  Please read and understand our standards before you apply to the farm.
You must be able to do repetitive physical work outdoors in all kinds of weather: including cold, heat, rain, etc.  Your body must tolerate bending, kneeling, crouching, and sitting on the ground for extended periods.
You must work thoroughly and carefully.  We are particular.  Our quality standards are meticulous.
At the same time, you must be quick and efficient.  Time is money—and money pays you, pays us, and keeps the farm going.
You must communicate and cooperate with your co-workers and have a good attitude. We will not tolerate people who don't respect their work and their co-workers. If you're lazy, rude, or disrespectful, you won't work here.
Experience is not needed.  We've had many folks come here with no experience growing vegetables who have been amazing employees!
Ultimately, know that we are flexible and understanding.  We recognize and appreciate human differences, and we've worked happily alongside many different types of people.
---
Work positions available
UPDATE: All positions for 2018 have been filled. Applications for 2019 will be available at the end of the year.
We offer full and part-time positions with various starting and ending times.  The links below offer job details and how to apply.
Start in March, April or May and work through October/November. Experienced or skilled full season employees will also be assigned advanced duties and specialize in specific areas of the farm.
Start in March, April or May and work into October/November. Part-time schedule is negotiable. Experienced or skilled full season employees will also be assigned advanced duties and specialize in specific areas of the farm.
Start in late May or early June and work to late August or early September.  This is an ideal position for college students.