UPDATE: All positions for 2017 have been filled.
We are in search of individuals who are hard-working, reliable, able to work both independently and in groups, and are able to stay on through the agreed upon dates.
Please make sure you have read through the Employment page and the information below before submitting the online application at the bottom of this page.
We offer both full-time and part-time positions for Full Season employment.
---
Work Dates and Times
Start in March, April or May and work into October/November.  Start and end dates vary depending on position available.
Full-time employees generally work 37 to 40 hours a week: Monday through Friday, typically 7:30 -3:30/4:00. A 45 minute unpaid lunch break is usually taken around Noon.  Please note that the hours occasionally fluctuate depending on the tasks at hand, the weather, etc.  In autumn the schedule often shifts to a later start time.
Part-time employees generally work 2 to 4 days a week, same hours as listed above.  Schedules are open to discussion.
Saturdays are an option for those working the Farmers' Market or our Farm Stand.
Experienced or skilled employees with advanced duties may have longer schedules (a few more hours a week).
We work on holidays: July 4th, Memorial Day, Labor Day.
---
Basic Responsibilities
Listed below are the main farm jobs shared by all workers: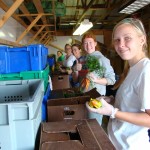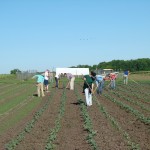 Seeding and transplanting
Weeding
Harvesting and washing produce
Packing produce
Other general farm tasks as needed
---
Advanced Responsibilities
Some full season employees may be assigned advanced responsibilities.  This opportunity will be discussed during your interview.  The following is a list of some of the advanced responsibilities available on the farm: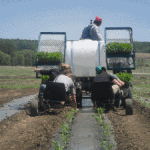 Field Crew Leader: Lead and supervise the crew in field work such as weeding, transplanting, and harvesting.
Packing Shed Coordinator: Manage washing, storage, and packing of produce. Supervise other employees in the packing shed.
Greenhouse/Tunnel Manager: Supervise other employees in the greenhouse and growing tunnels. Other tasks include daily monitoring of greenhouse and growing tunnels, mixing potting soil, filling flats, planting seeds, watering seedlings.
Tool & Supplies Manager: Organize and clean tools and tool storage area.  Prepare tools and other supplies for field work.
Trellising Guru: Trellis and train tomatoes and cucumbers.
---
Compensation
Starting wage is $9.00 – $12.00 per hour, depending on experience, qualifications, and duties.
Bonuses or raises may be provided for good performance.
A box of farm produce is provided during the main season CSA for employees working 3 or more full days days a week.
Bi-weekly mushrooms are provided during the main season CSA for employees working 4 or 5 full days a week.
Lunch may be provided once a week, possibly more.
---
Applying for Full Season Employment
Complete our online application.(The application will be available in fall 2017 for the 2018 season.)
We will acknowledge your application upon receiving it.
We may then contact you to schedule a short phone interview.
After the phone interview we may then schedule an in-person interview.
Based on your interviews and references we will then offer or deny you employment.